High Desert Home Inspection Services
Inspection Services
HDHI abides by the Standards of Practice and Code of Ethics set forth by InterNACHI, the International Association of Certified Home Inspectors. Stuart Stackelhouse, our owner and chief inspector, is an AHIT Certified Home Inspector, as well as an ITA certified pool/spa inspector. He performs a thorough assessment of every aspect of the following structures and components as part of our standard property inspection:
Roof, vents, flashings, and trim
Gutters and downspouts
Skylight, chimney and other roof penetrations
Decks, stoops, porches, walkways, and railings
Eaves, soffit and fascia
Grading and drainage
Basement, foundation and crawlspace
Water penetration and foundation movement
Heating systems
Cooling systems
Main water shut off valves
Water heating system
Interior plumbing fixtures and faucets
Drainage sump pumps with accessible floats
Electrical service line and meter box
Main disconnect and service amperage
Electrical panels, breakers, and fuses
Grounding and bonding
GFCIs and AFCIs
Fireplace damper door and hearth
Insulation and ventilation
Garage doors, safety sensors, and openers
Pools, spas, and all related components (Additional Fee)
Gas leak detection (Additional Fee)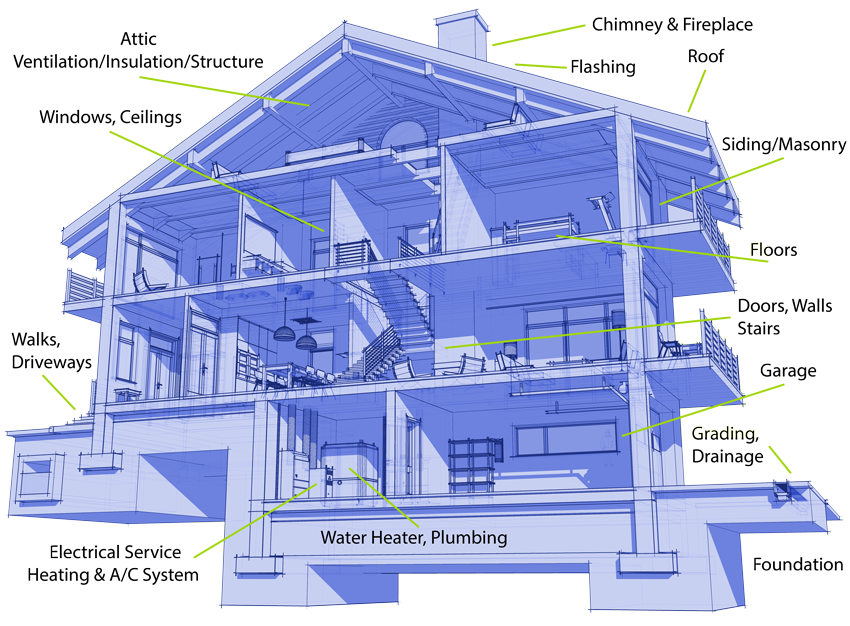 Additional Inspection Services

Pre-Listing/Seller's Inspection
Scheduling a Pre-Listing or Seller's Inspection before listing your house on the market is a great way to help you speed up the process of closing your sale while also increasing the likelihood that you will receive your asking price. This inspection allows you to identify defects and have them repaired before the buyer's inspector has a chance to discover them. A Pre-Listing Inspection often results in a higher price for a home, as well as that home spending less time on the market.

New Construction Inspection
Many homebuyers believe that newly constructed properties are a safer investment than older homes. While this is often the case, a mistake by any of the many workers involved in constructing a house from the ground up can result in defects that can turn into major issues down the road. Scheduling a New Construction Inspection prior to your final walkthrough with the builder gives us an opportunity to find these problems before they get worse.

Re-Inspection
It is important to follow up on any repairs performed to correct defects turned up by the initial home inspection. By scheduling a Re-inspection, we can assess any repairs to make certain that the original issue has been resolved and that the repairs were made with quality materials and workmanship.

11th Month/Builder's Warranty Inspection
Certain defects take time to reveal themselves. Scheduling a Builder's Warranty Inspection no later than 11 months after the final walkthrough with your contractor allows us to identify any issues that have arisen since that time. It also allows you to have your contractor perform any needed repairs before the one-year warranty they offer on certain work and material expires, leaving you to shoulder the burden of those costs yourself.

Commercial Building/Property Inspection
We also perform inspections on condos, apartment buildings, and commercial buildings under 10,000 square feet (no restaurants). Each property has its own particular needs and requirements, but we have the experience and knowledge to identify any defects or potential problems in your commercial space.
Serving all of Southern California since 1998. Schedule your appointment with High Desert Home Inspection to let us put our experience to work for you.